Sardinia (Italian: Sardegna – pronounced [sarˈdeɲɲa]), is the second largest island in the Mediterranean Sea (after Sicily and before Cyprus) and an autonomous region of Italy.
The region has its capital in its largest city, Cagliari, and is divided into eight provinces. All local languages (Sardinian, Sassarese, Gallurese, Catalan Algherese and Tabarchino) enjoy "equal dignity" with Italian each in the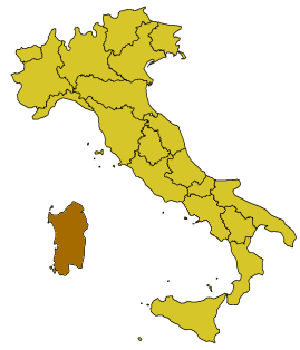 concerned territory by a regional law.
The island has a Mediterranean climate along the coasts, plains and low hills and a continental climate on the interior plateaus, valleys and mountain ranges.
Over 600,000 hectares of Sardinian territory is environmentally preserved(about 25% of the island's territory). The island has three national parks:
Sardinia is one of the most geologically ancient bodies of land in Europe. The island was populated in waves of emigration from the Paleolithic period until recent times.
The Sardinian economy is today focused on the overdeveloped tertiary sector with commerce, services, information technology, public administration and especially on tourism, which represents the main industry
Meat, dairy products, grains and vegetables constitute the most basic elements of the traditional diet, to a lesser extent Rock lobster, scampi, bottarga, squid, tuna and other seafood figure in Sardinian cuisine.
Suckling pig and wild boar are roasted on the spit or boiled in stews of beans and vegetables, thickened with bread. Herbs such as mint and myrtle are used. Much Sardinian bread is made dry, which keeps longer than high-moisture breads.
Sardinia is the only Italian region without Autostrade, but the road network is well developed with a system of no-toll roads with dual carriageway, called superstrade (super roads).
Sardinia has three international airports –
Alghero Airport, Olbia
Costa Smeralda Airport
Cagliari-Elmas Airport
connected with the principal Italian cities and many European destinations, mainly in the United Kingdom, Scandinavia, Spain, and Germany.