Le Marche is one of Italy's little-known treasures.
Located in central Italy between the Apennines and the Adriatic, the region enjoys a very varied landscape going from  the white-pebble,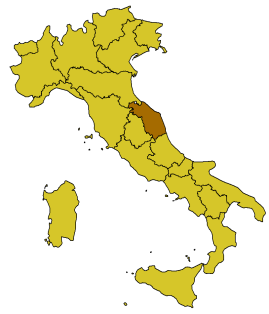 cliff-backed bays along the Adriatic to sloped hill towns and the high-rise mountain ranges of Monti Sibillini, bordered by Emilia-Romagna and the republic of San Marino to the north, Tuscany to the north-west, Umbria to the west, Abruzzo and Lazio to the south and the Adriatic Sea to the east.
The region's capital and largest town is Ancona, also an important port. Le Marche is made up of five regions: Ancona, Pesaro e Urbino, Ascoli Piceno, Fermo and Macerata. There are no big cities in the region.
The weather is usually very good from Mid April until late October, July and August are the hottest months but the hills and mountains usually benefit from a breeze. November and December are often bright and dry but colder and then the snow falls in the Mountains and you can ski at Sassotetto or Visso from  Mid December until late March.
The Marche offers many activities such as  horse riding, windsurfing, Opera, Italian cooking classes, painting and drawing etc, visiting local medieval Marche towns, beaches, golf, museums, local festivals and events, markets in le marche and much more. A must to visit are the numerous medieval towns throughout the region.
Marche cuisine has its own traditions that can be tasted at the many food festivals and festas, along with the local wines (verdicchio, Rosso conero) throughout the year.
The region is also well served by trains a railway from Bologna to Brindisi runs along the coast of the entire territory, and it has regular flights from the UK operated by Ryaniar  from London Stansted or Liverpool airport to Ancona and Pescara making it a very convenient destination.