Beautiful, crumbling medieval hilltop towns, faded palaces, large and tranquil lakes in old volcanic craters, thermal springs and fine wines…
Lazio is known  as the region of Rome the surrounding region is often quiet,  the good side of this is the tracts of unspoiled countryside,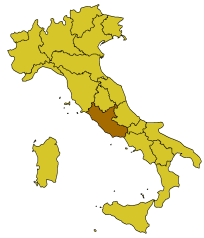 and the historic town centres.
Rome is of course the principal destination in Lazio.  As well as Rome itself, the Province of Rome boasts popular  destinations like Frascati and Tivoli.
Viterbo, to the north, is a historic town with a beautiful, well-preserved medieval centre. Its province offers : the lovely Lakes Vico and Bolsena, splendid gardens at the Villa Lante in Bagnaia, a grand palace at Caprarola, Etruscan remains at Tarquinia and Vulci, thermal springs  and famous wine (Montefiascone's Est! Est!! Est!!!).
The Province of Latina runs for 100km along the coast, between Rome and Campania, and includes stretches of sandy beach and charming resorts like Sperlonga, and the Pontine Islands. Frosinone is inland and its most well-known destination is Fiuggi, a spa resort with thermal springs. Naturally, Lazio – heart of the Roman Empire – is chock-full of archaeological sites.
Lazio is divided into five provinces. In the north and west, bordering Tuscany and Umbria, are the Provinces of Viterbo and Rieti. In the centre of Lazio, the region's administrative centre is the Province of Rome, then to the south lie the Provinces of Latina and Frosinone
A must to taste is one of Lazio's best loved pasta dishes, spaghetti carbonara, and the popular pasta sauce arrabbiata, which means 'angry', comes from this region. It is so named because of the flakes of hot peperoncino that are added to it.
Rome Fiumicino and Rome Ciampino are the two airports serving the region. The public transport is fairly efficient, there are local bus and rail services, but if you want to fit in a lot of sights, public transport isn't a really efficient use of time.