There are many great outdoor activities to enjoy whilst visiting or living in Abruzzo, including hiking, horseback riding, mountain climbing, cycling and sightseeing.
Abruzzo's extensive National Park system lies within two hours of Rome or less and includes incredible, natural beauty and can be enjoyed in a number of fun and interesting ways.
In the National Park of Abruzzo you can view many amazing animals, including Brown Bears, Wolves and Eagles, to name just a few.
Within Abruzzo's parks lie some of Italy's most beautiful ancient hill towns, giving you the opportunity to witness life which has remained unchanged for many centuries.

Italians are famous for their celebrations throughout the year and these normally outdoor activities draw large crowds and can take months to prepare, what with the costumes, models, floats etc. These are always worth a visit and provide a truly memorable experience.
Below we have listed just a small amount of outdoor activities and feasts, but it is always worth checking your local area you are staying in, to find out when the local festas are taking place and become part of it, whether taking part yourself (volunteers are always welcome!) or lining the small cobbled streets cheering, as they go by.
FESTIVITIES (Festas)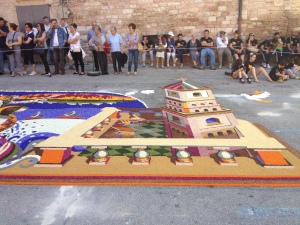 "Cantine aperte" (open cantina) with over fifty participating wineries (last Sunday of May)
The day dedicated to the "Virtù", Teramo's iconic dish (May 1)
"Carciofesta" dedicated to the Cupello artichoke (April/May)
The month dedicated to "Brodetto di pesce alla vastese" chowder (June)
"Trabocchi" Coast recipes during the "Cala lenta" (July)
"Festa del tartufo" to celebrate Campovalano di Campli truffles (July)
"Calici di stelle" for Ortona wines (August)
The "Mediterranea" fair of typical Abruzzo products (July/August)
"Buon gusto – Rassegna formaggi d'Abruzzo" a review of Abruzzo cheeses at Gessopalena (September)
Celebration of local lentils at Santo Stefano di Sessanio (September)
"Frantoi aperti" when oil presses open their doors (October/November).